How Lucky we are to do what we do!
We know it – and we are eager to share it!  Our wish is to put you in touch with our passion – nature!
Our experience is matched by a personalized service that keeps our guests returning to travel with us year after year. From the moment you inquire about a location to enjoying your chosen destination – we are dedicated to ensuring your trip is memorable.
Carol Petersen – Owner/Photographer/Tour Leader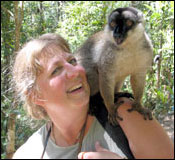 Wildlife photographer, videographer and Nature Encounters owner Carol Petersen, is an avid wildlife advocate! Carol has traveled and led over 75 safaris to South Africa, Zimbabwe, Botswana, Zambia, Namibia, Madagascar, Uganda, Rwanda, Democratic Republic of Congo, Kenya, Tanzania, Egypt, Galapagos, Ecuador and India. The quote "Once you've become a part of Africa, it becomes a part of you" best describes Carol's love for this special part of the world. Whether it be canoeing down the Zambezi River within a few feet of a 5-ton bull elephant, or capturing some precious moments with a family of wild gorillas or watching a pair of blue-footed booby's do their magical courting dance – that is Carol's idea of spending quality time.
In her dedication to preserving wild spaces, she encourages safari goers to walk lightly and appreciate the continent's challenges. Carol walks the talk by contributing to environmental groups such as The Friends of the Galapagos; Daphne Sheldrick's Elephant Orphanage and Tour Operators For Tigers.  Other special projects include providing radio collars for lion conservation and purchasing school supplies, mattresses and supplies for the Kajiado Girls School – home to many rescued young women in Kenya. Her keen interest in our environment, endangered species and the enhancement of the ecosystems of our planet is a never-ending endeavor. Carol is very proud to have been chosen for a "Woman of Vision" award for her conservation efforts – an honor bestowed to 12 women per year by a Calgary television station.
Enjoy Carol's photographs and collection of Fairly Traded Art and Craft by visiting the Nature Encounters Travel Store on Bowen Island, BC (Winter hours – Weekends / Summer hours – Closed Tuesdays).
Email: carol@natureencounterstours.com
Mona Keith – Zoo Keeper/Tour Leader

Zookeeper and Naturalist, Mona Keith's lifelong interest in the animals of our world make her a great part of our team. She has a BSc in Zoology and started her career as a Field Biologist with the Canadian Wildlife Federation, working on the endangered Vancouver Island Marmot Project, and the effects of clear-cut logging on the forest birds of Vancouver Island.  She began her Zoo keeping career in 1982 at the Calgary Zoo, and has nurtured her passion and honed her skills working closely with animals ever since. She strives to ensure that the animals under her care have the best life possible while they serve as ambassadors for their species educating people about the crucial role all wildlife plays in our lives and the world we live in.  For the last 24 years, she has worked almost exclusively with African species dedicating most of her time to giraffes, hippos & lions and feels her role as a Zookeeper includes the education of people about the animals under her care. She has given numerous talks to school groups, special behind-the-scene tours, and many TV, radio and newspaper interviews.  Mona is an avid birdwatcher keeping lists of sightings in North and South America, Australia, New Zealand, and Africa. She loves to share her passion for our avian friends and her enthusiasm is sure to rub off.  As an experienced trip leader, Mona will provide valuable knowledge and enjoyment to your trip to see the wonders of nature.